Set Your New Year's Resolution Early.
*Starting solving your meshing problems today and have a great new year*
Applied CCM is offering a 20% discount to all  new Sales from Australian & New Zealand CFD users who purchase a Pointwise commercial license before 20th December 2013.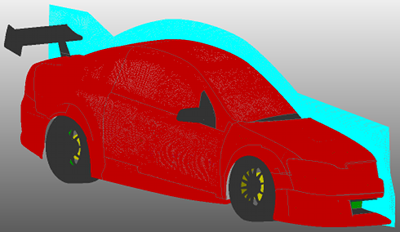 A view of the surface mesh used for the full car model (GRM)
"Get rid of tomorrow's problems, today!"
At Applied CCM we specialise in the application, support, and development of OpenFOAM®. We are also highly proficient in the use of ANSYS-CFX for solving engineering problems. Our staff are engineers with strong mathematical and physical background with excellent programming skills.

Our vision is to be recognised and respected as one of the premier providers of computational continuum mechanics solutions in the Oceania region, whilst creating innovation in its application.

Our mission is:

To improve our customer's efficiency and profitability by delivering highly innovative, cost effective computational continuum mechanics (CCM) solutions that do not compromise on quality or scope of service.
To provide advanced CFD Consultation services for analysis, design and product improvement.
To promote the correct applications of CFD analysis in all industries.
To demonstrate, uphold and promote the professional integrity of CFD service providers.
To build long term client relationships while exercising transparency, mutual respect and trust.

Please feel free to look around our site and contact us if you require any further information or assistance.

 

Use the arrows on the image below to scroll through a gallery of examples of our work.